Demolition Dreaming
We had a great screening of Demolition Dreaming at Traffic Zone Art Gallery. See some of the photos and read about the great panel discussion that followed the screening. It also played in early October at the Route 61 Film Festival in Pine City, MN.
Demolition Dreaming premiered at the Square Lake Film and Music Festival near Stillwater, MN on Saturday August 20th, 2016. This screening featured a live soundtrack performed by Dreamland Faces and Jill Underwood. It screened again, with live soundtrack, as part of The Gateway Show, for two sold out shows at the Trylon Microcinema. It also screened at the Cedar Cultural Center in March 2017 as part of the Dreamland Faces record release event, was presented by NEMAA at the Northrup King Building in early July, and played in a giant barn at the Free Range Film Festival near Duluth, MN at the end of July 2017. To find out more about upcoming screenings, like the movie on Facebook or visit the blog. If you want to host a screening or have an idea for a screening, comtact me (see below for my email).
The music score for the film was created by Dreamland Faces. Their record, "Icebreaker," features their music for Demolition Dreaming.
Here is a great article about the movie from Bill Lindeke for MinnPost.
The video below takes you behind the scenes of its production.
Demolition Dreaming is a fantasy of the Minneapolis Gateway District, a part of the city that was completely destroyed during the days of urban renewal in the 1950's and early 1960's. It is the story of a family that runs a residency hotel, and two of the people who live in that hotel. As they try to live their lives they find that their whole neighborhood is disappearing.
Here is a blog of my work on this project.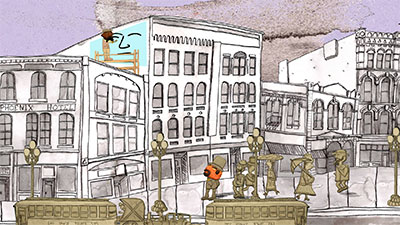 Demolition Dreaming is a short animated feature with narration and music. It is a movie made as if it were being made in 1916. The music is composed and performed by Dreamland Faces. The movie is narrated by Jill Underwood.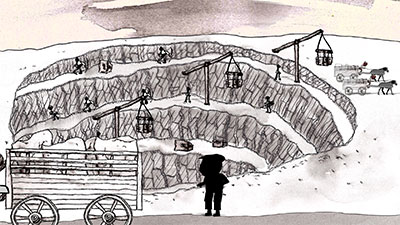 My story follows a family and their friends and how they deal or don't deal with the displacement caused by the complete destruction of their neighborhood.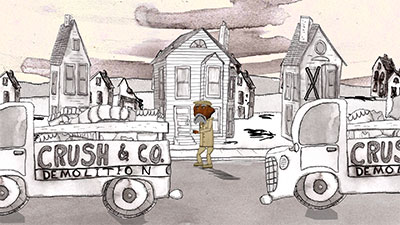 I began work on it in 2011 and it premiered in August 2016.
Places live and change and die just like people do. I am an animator and videomaker and media teacher with obsessions both for preserving history through photography and drawing and also figuring out ways to show the changes that happen to people and places. Demolition Dreaming is a short animated feature that combines these ideas in visual form with a soundtrack that includes music by Dreamland Faces and narration by Jill Underwood When I first moved to Minneapolis, in the late 1980's, I was amazed that so many large old buildings were being torn down, and usually replaced with surface parking lots. I filmed these huge buildings meeting the wrecking ball in a variety of film and video formats. I had no idea what I would ever do with such stark and sad images.
The Gateway District was the historic core of Minneapolis, and it was completely bulldozed, block after block, in the 1950's and early 1960's. The people who lived there moved on, scattered. My mother walked through the Metropolitan Building, one of the all-time architectural jewels of the city, shortly before it was torn down as part of that urban renewal. She couldn't believe how beautiful the building was, and how something so amazing could be torn down so thoughtlessly.
Thirty years ago I had an idea for a story of a child who watches huge stones mined out of the Quarry in Northeast Minneapolis and carted downtown on horse-drawn wagons to construct the massive stone buildings of the early city. And then, when that child is an old man, how he watches those same stones get dumped back into the quarry from trucks when those same buildings are demolished.
This story finally met all my other thoughts about the Gateway District and urban renewal and change and I began animating it all in 2012. I made faces out of clay and cut out characters from paper pieces that I had drawn in India Ink. I spent time at both the Minneapolis Collections room of the Central Library and the Hennepin County Historical Society looking at images of the buildings and people of the Gateway, and drawing them in the style of my movie. Grants from the Jerome Foundation and Minnesota State Arts Board got me started, as well as getting laid off from my job, which gave me free time to work on it.
I made the movie to look as if it came from 1916. It is a silent film with spoken narration and music accompaniment and it breaks with the Disney-influenced tradition of animation defined by motion that is based on some level of reality. The animation here is jerky and simple in its style, as if it were made 100 years ago, without the influence of the Disney studio's practices.
Dreamland Faces, who are masters at accompanying silent films with perfect music, created a score for the film. Jill Underwood reads the narration accompanying the film, in the tradition of the silent cinema of several countries, which featured speakers to explain the early movies to their audiences. And it will all come together for a showing with live music and narration at this year's Square Lake Festival, on August 20th.