John Akre, Animator, Etc.
Art-A-Whirl 2017: What Don't You Notice In the City?
I am an animator, a teaching artist, a videomaker, and I write and make books and comics. I have made over 100 animated shorts and three animated features that have screened all over the planet. I have over 20 years experience teaching animation and other media to young people in schools, after school, and summer programs. I have worked with many non-profit organizations and individuals to tell their stories on video, and have documented the city I live in and many of the things that go on there. I like history and community and creaky old forms of media, and these interests have driven me to combine them into my traveling stop motion animation studio, which I can bicycle to places and locations and create spontanteous cartoons with the public. I just like this stuff.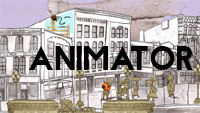 Find out about my Sloppy Films Animation Station.
Find out about Demolition Dreaming, my animated feature.
I organize an animation festival called MinnAnimate.
I'm writing occasionally about Minnesota film in Marcus Guidance.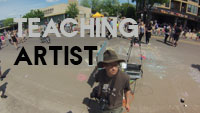 See what students in some of my recent teaching artist projects created.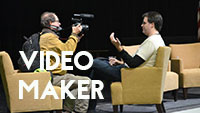 Check out GreenJeansMedia.com, the production company that I co-own with my partner Beth.
Watch Filling the Void, my documentary about an incredible public art project.
Find out about Bing Thisby, my animation archaeology and graphic novel project.
Danse Macabre, a public animation project at the Minnesota Orchestra
I am a teaching artist, an animator who makes short and feature-length animated work, a comic book artist and writer, and create documentary video work. Check out what I can do, read about me, and hire me to do some work for you!